Coming Soon
In 6 fade resistant, durable colours, Miroad Coloured Rubber Play Chippings are designed to be used as a loose fill Play Area safety surface or Landscape surface in exactly the same way you may use wood bark or wood chip. However unlike wood bark they do not compact or rot down so they retain their original Fall Height protection throughout their lifetime.
One 25kg bag of Miroad Coloured Rubber Chippings will cover an area of over 1 m2 to a depth of 50 mm, which is the minimum depth we recommend.
Does not rot or blow away
Simple to use
Very long lasting
Weather resistant, fast drying, will not freeze
Minimal site preparation
Meets British Safety Standards
In UK stock in 25kg bags @ 40 bags per pallet for fast delivery by tail lift vehicle
Please contact us for installation advice, recommended depths and coverage to determine amount required. These will vary dependent on usage and surface conditions of the area.
Popular uses of Miroad Coloured Rubber Play Chipping include play areas, trim trails, landscaping and pathways.
Installation is straight forward. Dig out a shallow pit around the area down to a minimum depth of 50 mm or more dependent on the amount of chippings you are using. Alternatively you can create a border around the area using our Rubber Kerb Edging (see below) or similar. Cover the area with a heavy duty landscape membrane and lay the rubber chippings on top.
Soft and safe Rubber Kerb Edging also available from £13.00 per square metre in black, red and green.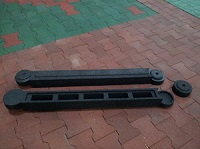 Important
Surfacing options – pros and cons
COLOUR WEAR
Rubber chippings are a highly affordable and effective safety surface. However, they are made from black rubber chips with a colour coating. Please note that due to normal wear and tear and UV exposure, over time all colour coated products are likely to expose the base rubber. As a result, rubber chippings may leave black marks on users if not recoated as part of a maintenance programme.