Rubber Mulch Cedar Grey 10kg

Rubber Mulch Redwood 10kg
Miroad bonded Rubber Mulch creates a safe, continuous, seamless rubber surface for play and leisure installations. Manufactured from solid tyres and coloured with a durable PU coating.
When mixed with our PU Binders and laid it has a 'bark like' appearance that blends well with the environment. It is very durable and can be laid over almost any type of existing ground. With its natural looking aesthetics and colour options it's suitable for a wide variety of applications. It's also very easy to lay, even for the beginner. Our Rubber Kerb Edging (see below) makes an ideal border for this product.
Natural appearance
Does not compact or degrade.
Minimal preparation.
Excellent drainage.
High elasticity.
Excellent coverage.
Non toxic.
In UK stock in 10 kg bags for fast delivery
Soft and safe Rubber Kerb Edging also available from £13.00 per square metre in black, red and green.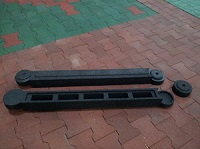 Important
Colour transfer and marking
While EPDM granulate is a more expensive surfacing option, it is a fully pigmented product with no colour wear or risk of marking. Mulch is an affordable alternative. However, it is made from black rubber shred with a colour coating. Please note that due to normal wear and tear and UV exposure, over time all colour coated products are likely to expose the base rubber. As a result, mulch may leave black marks on users if not recoated as part of a maintenance programme.
Our black SBR crumb topping is another cost-effective solution but this may also cause marks.
Batch variations
There are often variations in shade and shred size between batches of mulch. Any orders of a single colour over 100 bags may be from more than one batch. For batch information refer to manufacture dates and codes marked on the pallet.